Venue
MWP2017 will be held in the beautiful city of Beijing. China National Convention Center (CNCC) located in the heart of Olympic Park, 10-min walk from the National Stadium (Bird Nest) and the National Aquatics Center (Water Cube). Conference events (i.e. Conference Registration, Keynotes, Reception, Workshops, Luncheon) will be held at CNCC. More information could be found in http://www.cnccchina.com/en/Default.aspx.

Access
Beijing Capital International Airport is about 30km from CNCC. The following options are available for travel from the airport to CNCC.
Train: Public transport system in Beijing is well-developed. The traveler can take Airport Line from the airport to Sanyuanqiao (三元桥) station (approx. 38 mins, 25Rmb one way), then transfer to subway Line 10 to Beitucheng (北土城) station. From Beitucheng subway station to CNCC and nearby hotels, you can catch a metered taxi (4 km). Alternatively, for those with light baggage, they can use cheaper bus service (Route 81 or 82) from 北土城西路口东 to 北辰西桥北。
Taxi: For convenience, especially for those with heavy baggage, it is advisable that the travelers take taxis direct to CNCC and nearby hotels. The taxi service in the airport is 24-hour service. It will take about 40 mins and 90Rmb when the the traffic state.

Hotel
China National Convention Center Grand Hotel is a 5 star hotel, just 200m from CNCC.
Please Click here for reservation with dedicated entrance of MWP2017.

Rates:
| | | |
| --- | --- | --- |
| Room Type | Rates include 1-2 breakfast | Area |
| Superior Two Beds Room | 900 Rmb | 35 m2 |
| Superior Double Bed Room | 950 Rmb | 35 m2 |
| Deluxe Room (Double Bed) | 1000 Rmb | 50 m2 |
*The rate cover your room costs, including 15% service charge.
Address: 1# Building, 8# Court, Beichen West Road, Chaoyang District, Beijing, China
Phone: +86 10 8437 0691
Email: MWP17@cnccchina
Hotel Website: http://www.cnccgrandhotel.com/en/index.html
We also provide two other hotels nearby with preferred rate, Beijing Continental Grand Hotel and Beijing Ya'ao International Hotel. Please go to www.booking.com for reservation.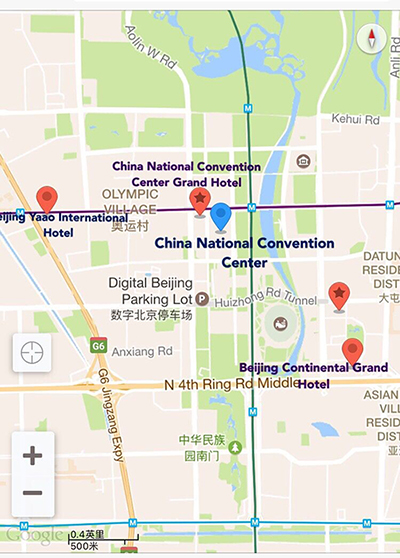 Tour Highlights
1. Great Wall Tour(长城)
The Great Wall, symbolizing China's ancient civilization, is one of the wonders of the world. It is one of the few man-made objects on earth that can be seen on the moon. Three are many sections of Great wall around Beijing. Badaling Great wall (八达岭长城) is about 75 kilometers in the northwest of Beijing, and it is the best preserved part of the Great Wall. It was listed as an important historical monument under special preservation by the Chinese government in 1961 and was listed by the UNESCO as one of the world heritage sites in 1987.

2. The Imperial Palace
The Imperial Palace (the Forbidden City) in Beijing is the world's largest royal palace, covering an area of 720000 square metres. It's construction started in 1406 and was completed in 1420. The Forbidden City was declared a World Heritage Site in 1987 as the "Imperial Palace of the Ming and Qing Dynasties", and is listed by UNESCO as the largest collection of preserved ancient wooden structures in the world.