Opto-Electronic Advances 第6卷 第5期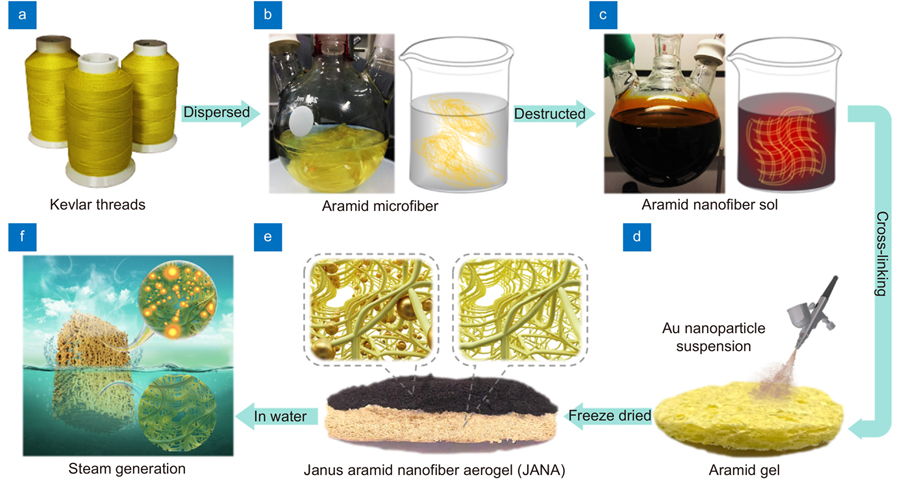 Interfacial solar steam generation (ISSG) is a novel and potential solution to global freshwater crisis. Here, based on a facile sol-gel fabrication process, we demonstrate a highly scalable Janus aramid nanofiber aerogel (JANA) as a high-efficiency ISSG device. JANA performs near-perfect broadband optical absorption, rapid photothermal conversion and effective water transportation. Owning to these features, efficient desalination of salty water and purification of municipal sewage are successfully demonstrated using JANA. In addition, benefiting from the mechanical property and chemical stability of constituent aramid nanofibers, JANA not only possesses outstanding flexibility and fire-resistance properties, but its solar steaming efficiency is also free from the influences of elastic deformations and fire treatments. We envision JANA provides a promising platform for mass-production of high-efficiency ISSG devices with supplementary capabilities of convenient transportation and long-term storage, which could further promote the realistic applications of ISSG technology.
plasmonics
interfacial solar steam generation
broadband optical absorption
aerogel
Terahertz (THz) technology offers novel opportunities in biology and medicine, thanks to the unique features of THz-wave interactions with tissues and cells. Among them, we particularly notice strong sensitivity of THz waves to the tissue water, as a medium for biochemical reactions and a main endogenous marker for THz spectroscopy and imaging. Tissues of the brain have an exceptionally high content of water. This factor, along with the features of the structural organization and biochemistry of neuronal and glial tissues, makes the brain an exciting subject to study in the THz range. In this paper, progress and prospects of THz technology in neurodiagnostics are overviewed, including diagnosis of neurodegenerative disease, myelin deficit, tumors of the central nervous system (with an emphasis on brain gliomas), and traumatic brain injuries. Fundamental and applied challenges in study of the THz-wave – brain tissue interactions and development of the THz biomedical tools and systems for neurodiagnostics are discussed.
THz technology
THz spectroscopy and imaging
superresolution imaging
biophotonics
brain
neurodiagnosis
tumor
glioma
neurodegenerative diseases
brain injury
light scattering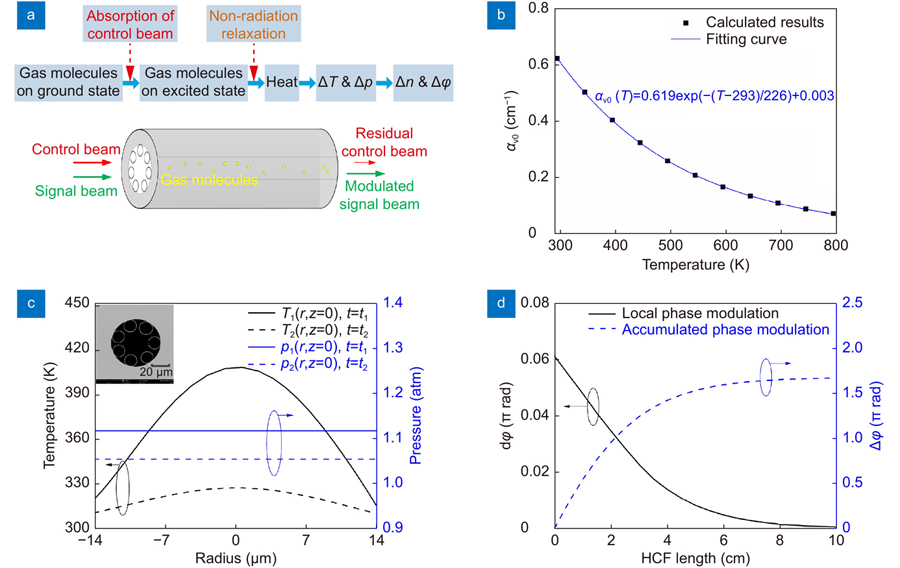 We report broadband all-fiber optical phase modulation based on the photo-thermal effect in a gas-filled hollow-core fiber. The phase modulation dynamics are studied by multi-physics simulation. A phase modulator is fabricated using a 5.6-cm-long anti-resonant hollow-core fiber with pure acetylene filling. It has a half-wave optical power of 289 mW at 100 kHz and an average insertion loss 0.6 dB over a broad wavelength range from 1450 to 1650 nm. The rise and fall time constants are 3.5 and 3.7 μs, respectively, 2–3 orders of magnitude better than the previously reported microfiber-based photo-thermal phase modulators. The gas-filled hollow-core waveguide configuration is promising for optical phase modulation from ultraviolet to mid-infrared which is challenging to achieve with solid optical fibers.
optical modulators
photo-thermal effects
hollow-core fibers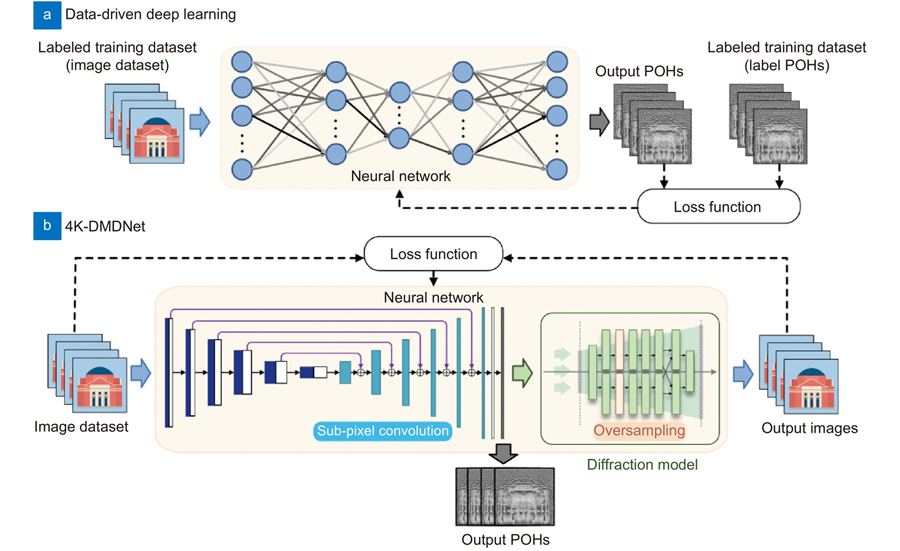 Deep learning offers a novel opportunity to achieve both high-quality and high-speed computer-generated holography (CGH). Current data-driven deep learning algorithms face the challenge that the labeled training datasets limit the training performance and generalization. The model-driven deep learning introduces the diffraction model into the neural network. It eliminates the need for the labeled training dataset and has been extensively applied to hologram generation. However, the existing model-driven deep learning algorithms face the problem of insufficient constraints. In this study, we propose a model-driven neural network capable of high-fidelity 4K computer-generated hologram generation, called 4K Diffraction Model-driven Network (4K-DMDNet). The constraint of the reconstructed images in the frequency domain is strengthened. And a network structure that combines the residual method and sub-pixel convolution method is built, which effectively enhances the fitting ability of the network for inverse problems. The generalization of the 4K-DMDNet is demonstrated with binary, grayscale and 3D images. High-quality full-color optical reconstructions of the 4K holograms have been achieved at the wavelengths of 450 nm, 520 nm, and 638 nm.
computer-generated holography
deep learning
model-driven neural network
sub-pixel convolution
oversampling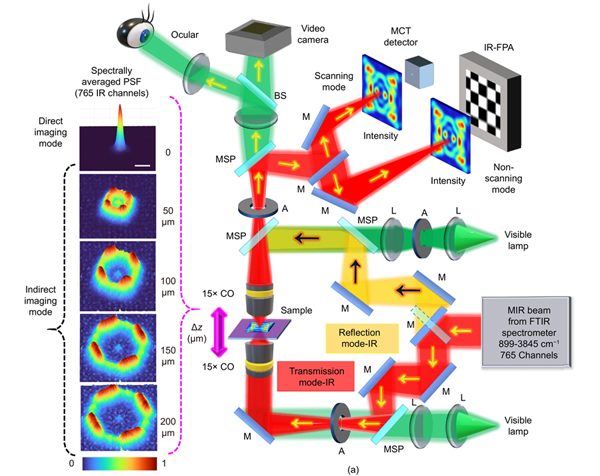 A novel computational reconstruction method called the Lucy–Richardson–Rosen algorithm (LRRA) for the construction of a single-shot infrared 3D imaging microscope was reported in Opto-Electronic Science. In that study, a commonly available optical element, the Cassegrain objective lens, was used as a coded aperture for 3D imaging using LRRA. Unlike regular coded aperture imaging systems, achieving 3D imaging using commonly available imaging devices leads to the development of hybrid imaging systems where direct and indirect imaging concepts coexist. The development above will make 3D imaging more commonly used in daily life.
Flexible optical sensors have been an emerging paradigm for applications in robotics, healthcare, and human–machine interfaces due to their high sensitivity, fast response, and anti-electromagnetic interference. Recently, Marques reports a bioinspired multifunctional flexible optical sensor (BioMFOS), achieving a forces sensitivity of 13.28 μN, and a spatial resolution of 0.02 mm. The BioMFOS has a small dimension (around 2 cm) and a light weight (0.8 g), making it suitable for wearable application and clothing integration. As proof-of-concept demonstrations, monitoring of finger position, trunk movements, and respiration rate are realized, implying their prominent applications in remote healthcare, intelligent robots, assistance devices teleoperation, and human-machine interfaces.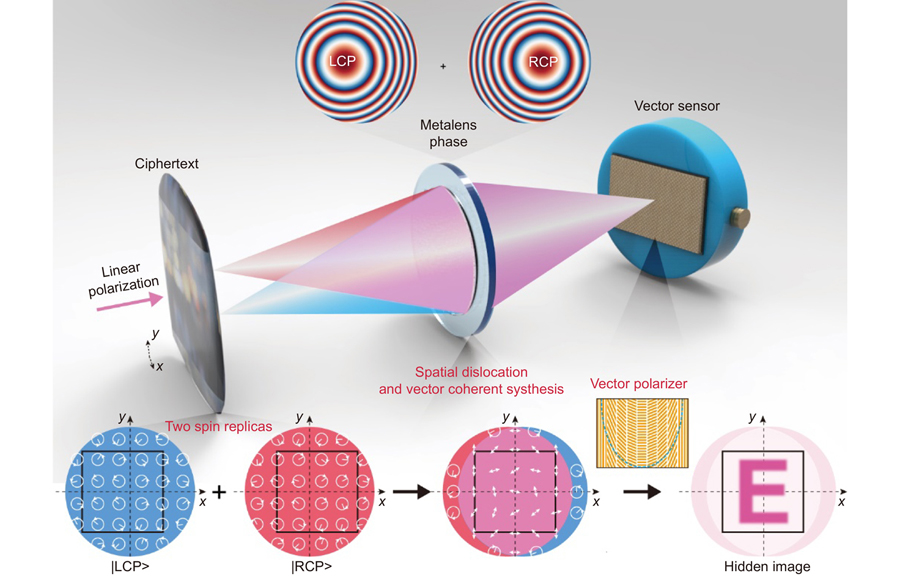 Meta optics-empowered vector visual cryptography at the abundant degrees of freedom of light and spatial dislocation can open an avenue for optical information security and anti-counterfeiting with a compact footprint and rapid decryption.
地址: 四川省成都市双流区光电大道一号中科院光电所《光电进展》编辑部
邮政编码:610209
E-mail: oea@ioe.ac.cn
电话:028-85100579
网址: https://www.oejournal.org/oea
微信号:OE_Journal (光电期刊)