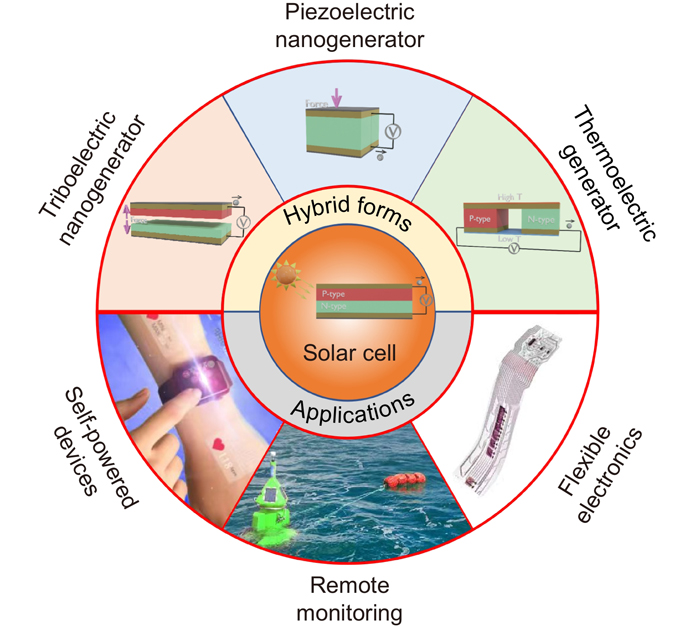 Energy harvesting plays a crucial role in modern society. In the past years, solar energy, owing to its renewable, green, and infinite attributes, has attracted increasing attention across a broad range of applications from small-scale wearable electronics to large-scale energy powering. However, the utility of solar cells in providing a stable power supply for various electrical appliances in practical applications is restricted by weather conditions. To address this issue, researchers have made many efforts to integrate solar cells with other types of energy harvesters, thus developing hybrid energy harvesters (HEHs), which can harvest energy from the ambient environment via different working mechanisms. In this review, four categories of energy harvesters including solar cells, triboelectric nanogenerators (TENGs), piezoelectric nanogenerators (PENGs), and thermoelectric generators (TEGs) are introduced. In addition, we systematically summarize the recent progress in solar cell-based hybrid energy harvesters (SCHEHs) with a focus on their structure designs and the corresponding applications. Three hybridization designs through unique combinations of TENG, PENG, and TEG with solar cells are elaborated in detail. Finally, the main challenges and perspectives for the future development of SCHEHs are discussed.
solar cell
hybrid energy harvesters
triboelectric nanogenerators
piezoelectric nanogenerators
thermoelectric generators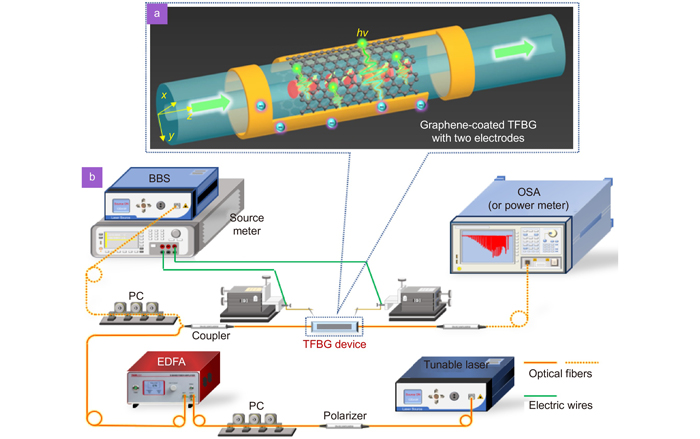 Graphene and related two-dimensional materials have attracted great research interests due to prominently optical and electrical properties and flexibility in integration with versatile photonic structures. Here, we report an in-fiber photoelectric device by wrapping a few-layer graphene and bonding a pair of electrodes onto a tilted fiber Bragg grating (TFBG) for photoelectric and electric-induced thermo-optic conversions. The transmitted spectrum from this device consists of a dense comb of narrowband resonances that provides an observable window to sense the photocurrent and the electrical injection in the graphene layer. The device has a wavelength-sensitive photoresponse with responsivity up to 11.4 A/W, allowing the spectrum analysis by real-time monitoring of photocurrent evolution. Based on the thermal-optic effect of electrical injection, the graphene layer is energized to produce a global red-shift of the transmission spectrum of the TFBG, with a high sensitivity approaching 2.167×104 nm/A2. The in-fiber photoelectric device, therefore as a powerful tool, could be widely available as off-the-shelf product for photodetection, spectrometer and current sensor.
tilted fiber grating
photoelectric device
graphene
photoelectric conversion
thermo-optic switching